New York City, a melting pot of cultures and cuisines, offers a delectable journey for food enthusiasts. Among the many culinary experiences it provides, the French gastronomic scene stands out. In this guide, we'll explore the French food gems scattered across the city, making it a paradise for those who appreciate the art of French cuisine.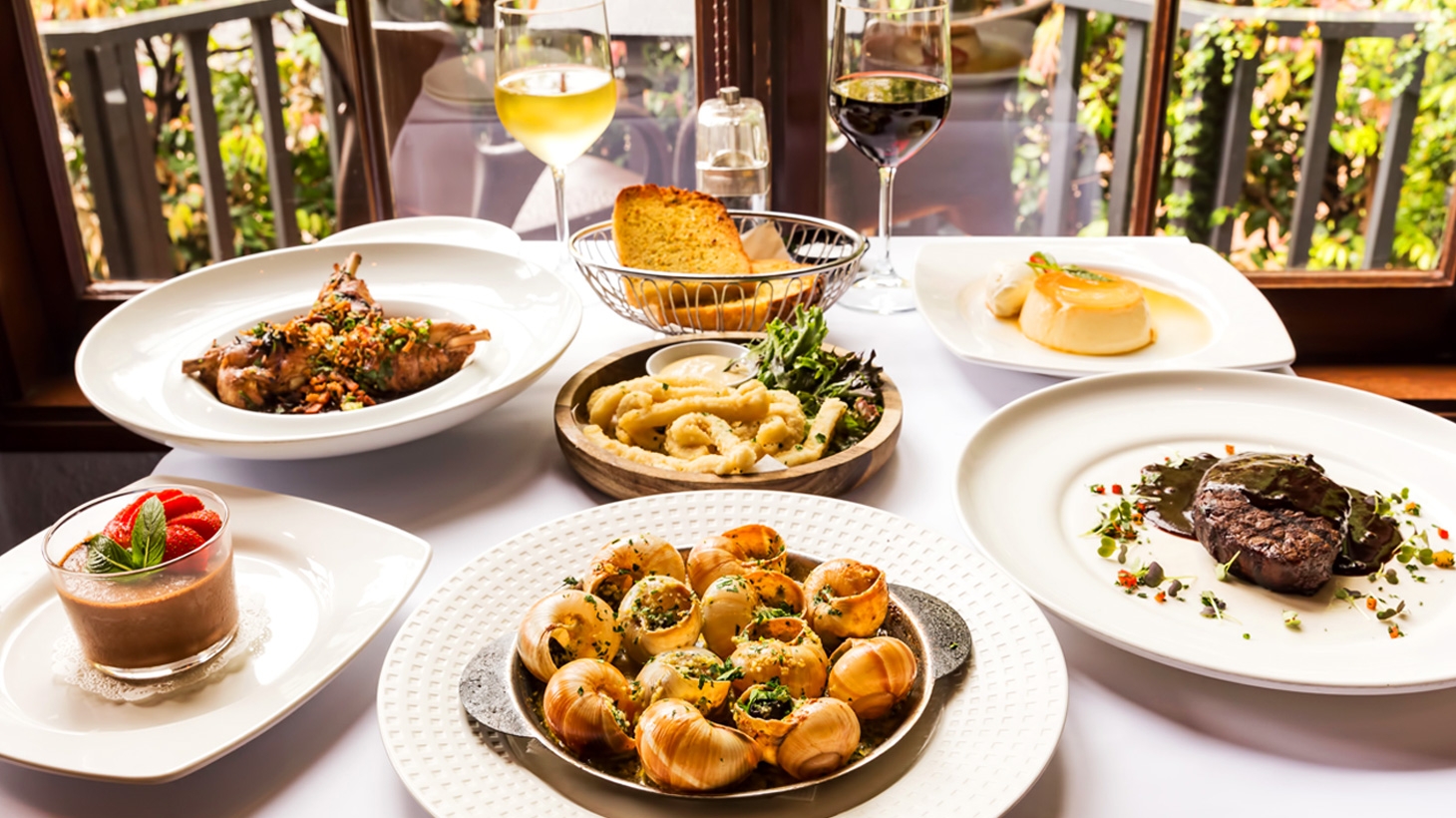 The French Culinary Influence in NYC
French culinary influence in NYC is undeniable. From charming bakeries to Michelin-starred fine dining establishments, you'll find a diverse range of options to satisfy your French food cravings.
French Bakeries: A Morning Delight
Indulge in Freshly Baked Croissants
Begin your day with the buttery and flaky goodness of freshly baked croissants. NYC's French bakeries take this classic pastry to the next level, offering plain, almond-filled, and chocolate variants that are simply irresistible.
Baguettes, Éclairs, and More: Sweet Temptations
French bakeries in NYC go beyond croissants. Baguettes with their crisp crust and soft interior, éclairs filled with rich cream, and fruit-filled tarts are just a few of the sweet temptations you can savor.
Coffee or Café au Lait: The Perfect Pairing
Pair your morning treats with a steaming cup of coffee or a café au lait. French bakeries know how to brew the perfect cup to complement your pastry choices.
Classic French Cafés: Brunch and Beyond
Le Petit Déjeuner: Breakfast at Its Best
French cafés in NYC excel at providing a classic French breakfast, or le petit déjeuner. Enjoy fresh croissants, pain au chocolat, and café crème, creating a delightful start to your day.
Café Culture: Sipping Espresso and People-Watching
Embrace the café culture that permeates French communities. Sip on an espresso or a noisette while watching the world go by at sidewalk cafés, a cherished French pastime.
Quiche, Crêpes, and Croque-Monsieur: Midday Savories
For brunch or a light lunch, explore savory delights like quiche Lorraine, crêpes with various fillings, and the iconic croque-monsieur.
Bistros and Brasseries: A Taste of Paris
Cozy Atmospheres and Authentic Dishes
NYC boasts an array of bistros and brasseries that recreate the cozy atmospheres of Paris. From dimly lit corners to rustic interiors, these eateries offer an authentic French dining experience.
Escargot, Duck Confit, and Coq au Vin: French Classics
Dive into French classics such as escargot in garlic butter, duck confit with crispy skin, and coq au vin simmered in red wine. These dishes embody the heart of French cuisine.
The French Wine Experience: Pairing Perfection
Enhance your bistro experience with a carefully selected French wine. From Bordeaux to Burgundy, the wine lists are curated to complement the flavors of your meal.
Fine Dining, French Style: Michelin Stars Await
Elegant Settings and Culinary Artistry
For a truly upscale experience, NYC offers Michelin-starred French restaurants. These establishments provide elegant settings and culinary artistry that elevate French cuisine to an art form.
Degustation Menus: A Gastronomic Journey
Indulge in degustation menus that take you on a gastronomic journey, showcasing the chef's creativity and expertise. Each course is a revelation of flavors and textures.
Reservations and Dress Codes: Preparing for a Grand Evening
Plan ahead when dining at Michelin-starred restaurants, as reservations are essential. Be aware of dress codes, which often require upscale attire to match the opulent surroundings.
Hidden Gems: French Fusion and Ethnic Influences
French-Vietnamese Fusion: Exploring Unique Flavors
NYC's culinary diversity extends to French-Vietnamese fusion restaurants, offering unique dishes like bánh mì with a French twist and pho with a touch of Paris.
African and Caribbean Inspirations: A Diverse Palette
Discover the influence of French colonial history in the African and Caribbean cuisines of NYC. Dishes like poulet yassa and accras de morue offer a diverse palette of flavors.
Global Meets French: Surprising Combinations
In the city's dynamic food scene, you'll find global influences melding with French techniques. Try sushi with French ingredients or tacos with a hint of French flair.
French Food Markets: Savoring the Ingredients
Farmers' Markets and Specialty Shops
Explore farmers' markets and specialty shops that offer fresh ingredients for your French culinary adventures. From artisanal cheeses to crusty baguettes, you'll find everything you need.
Fromage, Charcuterie, and Crème Brûlée Ingredients
Indulge in gourmet delights like fromage (cheese) and charcuterie (cured meats) that can be sourced from these markets. Don't forget to gather ingredients for homemade crème brûlée.
Cooking Classes: Learn the Art of French Cuisine
For those eager to take their love of French cuisine to the next level, NYC offers cooking classes where you can learn to prepare classic dishes from expert chefs.
Tips for the Ultimate French Food Experience
Navigating French Menus and Etiquette
Understanding French menus and dining etiquette can enhance your experience. Learn about entrées, plats principaux, and desserts, as well as the importance of saying "Bon appétit!"
Wine Pairing Advice: From Bordeaux to Burgundy
Gain confidence in wine pairing by exploring the diversity of French wine regions. Understand which wines complement specific dishes for a harmonious meal.
Connecting with Local Food Enthusiasts
Engage with local food enthusiasts through online communities and food events. NYC's French food scene is a shared passion, and you can gain valuable insights from fellow enthusiasts.
Conclusion
In the heart of the concrete jungle, NYC offers a slice of France for every palate. Whether you're craving a simple croissant or a Michelin-starred feast, the city's French food scene will transport you to the charming streets of Paris.
Frequently Asked Questions (FAQs)
Is it necessary to speak French to enjoy French cuisine in NYC?

Not at all! While knowing a few French phrases can enhance your experience, most places in NYC cater to English-speaking guests.

Are these French eateries located throughout NYC, or are they concentrated in specific neighborhoods?

You can find French restaurants and bakeries across NYC, from Manhattan to Brooklyn, offering a variety of dining experiences.

Do I need reservations for dining at Michelin-starred French restaurants?

Yes, it's highly recommended to make reservations for Michelin-starred restaurants in advance due to their popularity.

Can I find vegetarian or vegan options at French restaurants in NYC?

Many French restaurants in NYC offer vegetarian and vegan dishes, so you can enjoy French cuisine even if you have dietary restrictions.

What's the best time to visit French bakeries for fresh pastries in NYC?

French bakeries usually have the freshest pastries in the morning, so it's best to visit them early for the widest selection.