New York City, a culinary playground where diversity meets gastronomy, is also home to some of the finest steakhouses in the world. For those with an insatiable appetite for prime cuts and sizzling flavors, navigating the NYC steakhouse scene can be a mouthwatering adventure. In this guide, we'll take you on a tantalizing journey through the top 10 steakhouses in the city that never sleeps.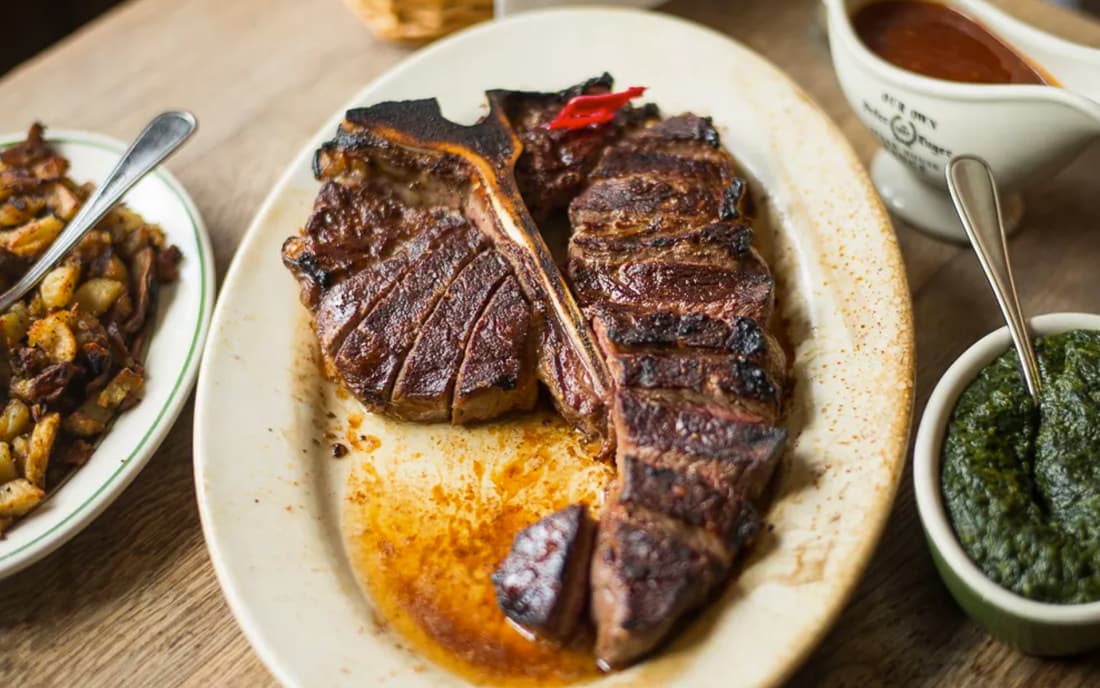 1. Peter Luger Steak House
A Legendary Steakhouse
When it comes to NYC steakhouses, Peter Luger Steak House reigns supreme. Established in 1887, it's not just a restaurant; it's a culinary institution. The moment you step in, you're transported to a bygone era of wood-paneled walls and classic charm.
Signature Steak: Luger's Porterhouse
The star of the show at Peter Luger is undoubtedly the Luger's Porterhouse. Dry-aged to perfection, this steak is a carnivore's dream come true. It's a harmonious marriage of tenderness and flavor that'll leave you speechless.
2. Keens Steakhouse
Historic Steakhouse Charm
Keens Steakhouse is a piece of NYC history that's been serving steak aficionados since 1885. As you enter, you'll be captivated by the countless clay pipes adorning the ceiling, a testament to the famous patrons who once frequented this establishment.
Must-Try Steak: Mutton Chop
Keens is renowned for its Mutton Chop, a unique cut that's seldom found elsewhere. If you're looking for something different, the Mutton Chop is a flavorful deviation from the norm.
3. Wolfgang's Steakhouse
A Taste of Elegance
Wolfgang's Steakhouse offers a modern take on the classic steakhouse concept. With its upscale ambiance and impeccable service, it's a favorite among those seeking a sophisticated dining experience.
Recommended Dish: Rib Eye Steak
The Rib Eye Steak at Wolfgang's is a sensory masterpiece. Juicy, tender, and bursting with flavor, it's a steak that embodies elegance on a plate.
4. Delmonico's Restaurant
A Culinary Institution
Delmonico's, dating back to the 19th century, is considered a culinary institution in NYC. It's an icon known for its impeccable steak offerings and luxurious atmosphere.
Notable Steak: Delmonico Ribeye
The Delmonico Ribeye is a testament to the restaurant's legacy. Aged to perfection, it's a steak that exudes timeless excellence.
5. BLT Prime by David Burke
Modern Steakhouse Excellence
BLT Prime by David Burke offers a contemporary twist on the classic steakhouse. With its modern décor and innovative menu, it's perfect for those seeking something a bit different.
Standout Steak: Dry-Aged NY Strip
The Dry-Aged NY Strip at BLT Prime is a revelation. Its deep, rich flavors and perfectly seared exterior make it a top choice for discerning steak lovers.
6. Cote Korean Steakhouse
Fusion Steak Delight
Cote Korean Steakhouse brings a fusion of Korean barbecue and American steakhouse to the table. It's an exciting journey for adventurous diners.
Unique Steak: Butcher's Feast
The Butcher's Feast is a shared experience that allows you to savor various cuts, including prime ribeye and marinated short rib, all cooked to perfection.
7. Benjamin Steakhouse
Classic Steakhouse Charm
Benjamin Steakhouse embodies the essence of a classic steakhouse. With its wood-paneled interiors and attentive service, it creates an inviting atmosphere for meat enthusiasts.
Highlight Steak: Rib Eye
The Rib Eye at Benjamin Steakhouse is known for its tenderness and robust flavor, making it a top pick for steak aficionados.
8. Quality Eats
Affordable Steakhouse Gem
Quality Eats is where you can indulge in the finest steaks without breaking the bank. It's a hidden gem for those seeking quality at a reasonable price.
Steak of Note: The Bowery
The Bowery steak at Quality Eats offers a unique and flavorful experience at a price point that won't leave your wallet feeling light.
9. Old Homestead Steakhouse
A Steakhouse Icon
Old Homestead Steakhouse has been a Manhattan fixture for over 150 years. Its rustic charm and top-notch steaks continue to impress diners year after year.
Iconic Steak: Gotham Rib Steak
The Gotham Rib Steak is a classic choice, offering a hearty and satisfying flavor profile that embodies the essence of Old Homestead.
10. Porter House Bar and Grill
Hudson River Views
Porter House Bar and Grill offers not only delectable steaks but also breathtaking views of the Hudson River. It's the perfect setting for a memorable steak dinner.
Steak to Savor: Kansas City Bone-in Strip
The Kansas City Bone-in Strip is a robust and flavorful steak that pairs perfectly with the scenic backdrop, creating an unforgettable dining experience.
Conclusion
The NYC steakhouse scene is a paradise for meat enthusiasts, with each establishment offering a unique experience and a delectable selection of steaks. Whether you prefer the classic charm of Peter Luger or the modern elegance of BLT Prime, there's a steakhouse to suit every palate in the city that never sleeps.
FAQs
1. Are these steakhouses budget-friendly?
While some are upscale, there are also more affordable options like Quality Eats.
2. Is it necessary to make reservations in advance?
Reservations are recommended, especially for popular spots like Peter Luger and Keens.
3. Do these steakhouses offer vegetarian options?
Most focus on steak, but they often have a few vegetarian sides and options.
4. Are children allowed at these steakhouses?
Yes, many of them are family-friendly and welcome children.
5. What is the dress code for these steakhouses?
Dress codes vary, but it's advisable to dress smart-casual to upscale for most of them.